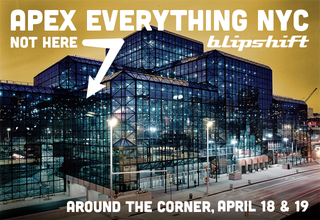 We regret to inform you that blipshift won't have a booth next to the shammy guy on the second floor of Javits… Why?
If you've ever gone to a springtime auto show in NYC, you know your day comes with a plethora of sacrifices. Yeah, you might get to skip work and spend hours looking at shiny rides but you'll probably wait in line to sit in anything but the newly hip, totally-redesigned-for this-year Civrollacus3. And usually there's some random dude bouncing in the seat next to you trying to figure out which dash buttons would make the best souvenir. You know who you are, random dude! Then when you get the hungries you find yourself on 11th Ave. in the Twilight Zone of Manhattan so you have to bite the bullet and force down a $10 industrial grade hot dog in the bowels of the convention center.
We've got a better idea...
What is Apex Everything NYC?
Two days of cardonkulousness in the Big Apple on April 18 & 19. A true enthusiast rest stop! We're going to have a legit collection of "WTF, I tots need a selfie with that!" worthy vehicles half a block away from the Jacob Javits Center. You'll be able to get up close and personal with our display vehicles. You can sniff the canards of a prototype racecar and inspect the rudder action of a street legal airplane by Speedycop.
Perhaps an appearance by an M car, STi, or open wheel car will be in at the shop for y'all to drool over as well! And yup, the blipshift Volvo C303 with all its portal-axeley goodness will be there, dripping fluids onto your favorite shoes. Souvenir! The full, finalized lineup of vehicles will be announced soon!
But wait, there's more!
We'll have a bunch of speaker sessions with racers, engineers and other industry experts – sorry, no booth babes/dudes reading from scripts they were handed yesterday! You'll get to listen to super interesting fellas fully in 'the biz,' sharing all their hoonisodes around the shop. Ask your own MENSA-stumping questions and rub elbows (please, nothing else) with your new best-buddy automotive genius. The full line up of speakers will be released soon too. Be patient grasshoppa!

The speaker sessions will include drinks and munchies, so you can just strategically stuff something in your mouth if you're too embarrassed to ask a real live racecar driver a question. And by drinks, we mean refreshing, hops and barley derived beverages. The type you might possibly need to show an ID to imbibe. The type that may help give you the courage you need to spit out that slider and ask a real live racecar driver a question. (During morning sessions there will be caffeine instead. Even we don't normally pour our first pint before noon on Fridays or Saturdays.)
So how do I get in?

OK, for the speaker sessions with foodz and drank, you gotta buy a ticket, but it's only 10 bucks a session! As a bonus, there will be seriously non-lame door prizes and since spots are limited for each session your chances of winning are probably better than the PowerMegaBall Millions ticket you just bought! Way better than a $10 hot dog, ehh!?
We'll share an update with more details once tickets go on sale.

Where is it?

Like our shirts, this event is a limited edition! It will take place at the blipshift pop up store on 37th St. between 10th and 11th Avenues. If you go there right now, you'll find an empty building. So wait until April. You know, like when the cars come to Javits.
Anything else I need to know?

Naturally there will be t-shirts, specifically blipshift t-shirts, at the pop up store. Oh yeah, there is gonna be a kick-off party on Thursday, April 17 with one of our bestest-of-buddy partners. Did we say to stay tuned?

We might be a little light on the deets right now but things are moving fast here at BS HQ and we want to keep y'all in the loop! We'll be posting more updates to Kinja very soon!